Origin
Decked out like something out of the 1930's, Origin is a relative newcomer to the office scene and with this space on Spring Gardens, in the heart of the city, they're certainly onto a winner. There's 6 floors of office space available, as well as a stunning co-working and meeting space on the ground floor. In addition, each floor has a fully decked out kitchen and there's even a gym and wellbeing space in the basement. Let's not forget the amazing rooftop terrace either – with stunning views of the city and a nice relaxing place to crack on with those fiendish Excel documents.
Origin, 70 Spring Gardens, Manchester M2 2BQ, UK
www.thisisorigin.com
Canada House
Established in 1909 and re-established in 2017 with life being breathed back into the former mill and textile warehouse on Chepstow Street. With interiors to rival that of some in a home show the stunning warehouse filled to bursting of period features is now home to a number of household names and brands. There's also Clink Cafe, a flat white spot so far from ordinary. The charity trains and hires homeless young adults or former prisoners, training in hospitality and giving a chance to gain qualifications and a job after release. It even uses produce from the two garden sites in Surrey and Prescoed.
Canada House, 3 Chepstow St, Manchester M1 5FW
canadahousemanchester.com
Colony
Colony are dotted throughout the city, with locations in Ancoats and Piccadilly. Each incredibly modern and chic interior has café-style booths, a screening/meeting room, sociable kitchen area, private phone booths and even a rooftop terrace! Colony operates 24 hours a day, and has a serviced reception, unlimited refreshments, showers and even a mail handling service if you don't have time to make it to the post office. With plenty of flexible membership options to satisfy your circumstances, Colony is the right choice for anyone looking for a co-working space in the city.
Colony Coworking, Jactin House, 24 Hood Street, Ancoats, Manchester M4 6WX
www.colonyco.work
Beehive Loft
Beehive Loft features a range of offices as well as Beehive Lofts, featuring 7 spaces over the site with more in the works. Each loft offers something different in terms of size and what's on offer. The building features a wealth of sofas, desks, a games area, a kitchen and meeting rooms. Oh, and let's not forget the cracking view! It's also worth noting that their Upper Lounge has a couple of pool tables in it, some great views and even a couple of hammocks for a well needed mid-afternoon snooze.
Beehive Lofts Coworking, Beehive Mill, Jersey St, Manchester M4 6JG
www.beehivelofts.co.uk
Bruntwood Neo
Aptly named a 'neo way of working', Bruntwood Neo is the £8m flagship commercial property by Bruntood that reinvented a Manchester landmark. Priding itself on keeping creativity at the core and a massive focus on health and wellbeing, including an onsite gym with free Fitbits, discounted memberships and changing rooms and showers on every floor. You can even take your 4-legged friends to work with you. And if all that wasn't enough they created a stunning roof terrace, with pods and plenty of fairy lights and heat lamps.
Neo, Charlotte St, Manchester M1 4ET
bruntwood.co.uk/our-locations/manchester/neo
WeWork
WeWork could be considered to be the 'big boys' and as such have a moderate selection of offices dotted around the city, each offering a range of places to work – whether it's casual or something a little more permanent. Their spaces are pet-friendly, offer wellness rooms and even free beers when you want to sink a few after a hard day's work. One of the best things about WeWork is also that it's a global company, so if you're on holiday or away on business – there'll always be an office for you to use.
WeWork Manchester, Various locations
www.wework.com
Use.Space
Located down in Ardwick, you might not want to take such a walk to do some work but once you arrive you'll be handsomely rewarded with one of the most impressive spaces in the city. The light-filled botanical features over 600 plants and acts as a hub for members to meet, work and collaborate. In addition, there's a world food café, artisanal baker and stylish meeting spaces. The whole thing aims to promote eco-friendly spaces and in turn provide wellness areas where you can concentrate more and perhaps even just relax in peace.
Use.Space, 31 Ardwick Green, Thirsk Street, Manchester M12 6PN
usespace.co.uk
This is The Space
This is The Space will make anyone with an Instagram account giddy. Located in the poshest part of town, Spinningfields, this boutique workspace is inclusive of shared and private spaces. Swapping beige walls and square carpet tiles for unique and changeable flooring and lighting throughout the space makes each office space entirely unique and far from the usual dull and plain white walls. The space in a row of Georgian-style townhouses features the work of many local artists including a miniature urban park with enough plants to make anyone happy
This is The Space, 68 Quay St, Manchester M3 3EJ
thisisthespace.co.uk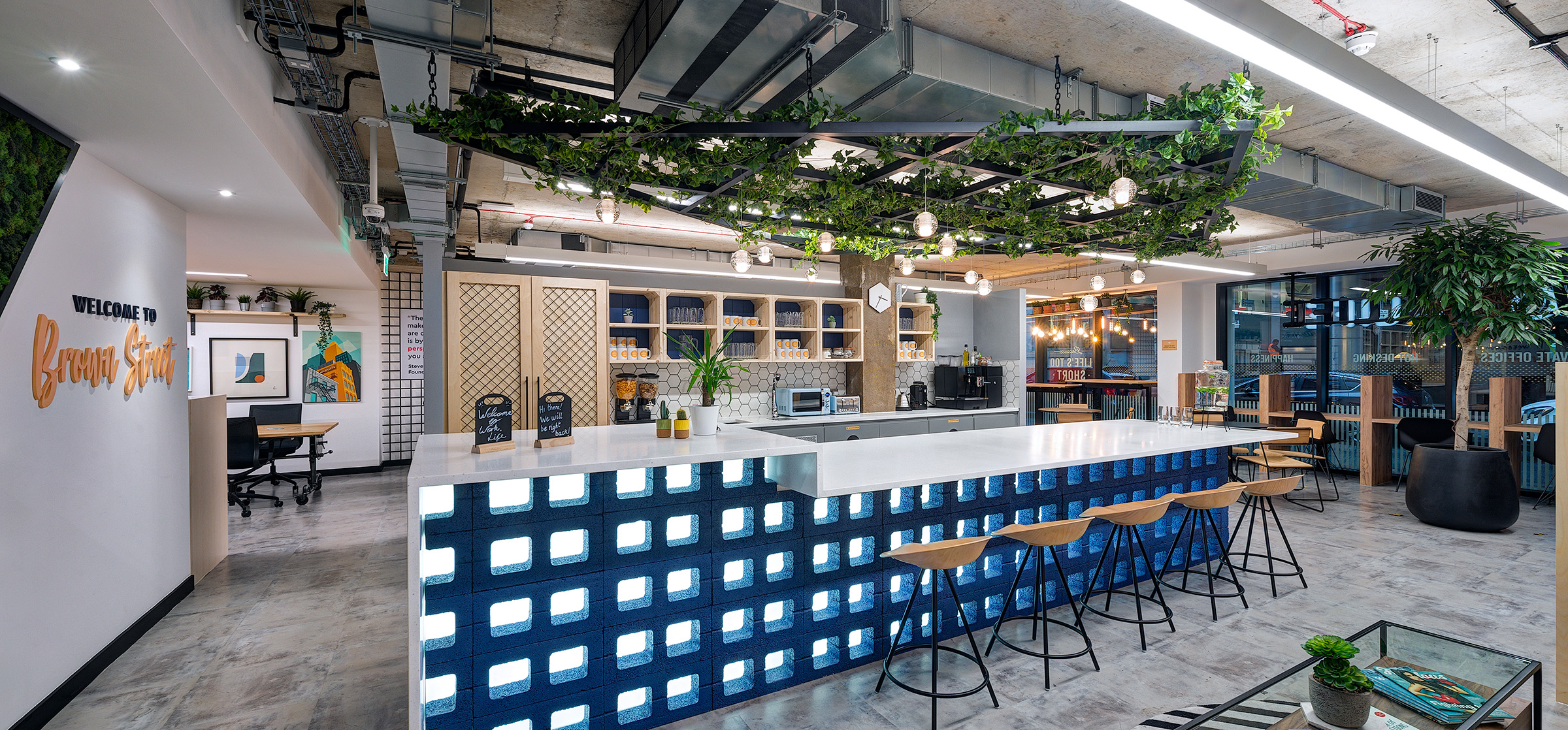 Work Life
A delicious space that is just effortlessly cool, including unlimited coffee and snacks and weekly breakfasts. There's even free yoga and fitness classes for workers, beer and pizza nights and monthly massages all on offer. It almost sounds too good to be true. It's not though. There really is free pizza and beer every Thursday. It's home to the future of work space, redefining the traditional 9 to 5 and creating an enviable co-working space home to over 150 members with prices starting at around £4 for individuals per hour.
Work.Life, Brown St, Manchester M2 1DH
work.life/locations/manchester/